Read the October 2008 Newsletter in PDF format Read the October 2008 Newsletter in PDF format. <---Click at left.

Somalia still relies almost exclusively of charcoal for cooking fuel. Solar cooking is reaching takeoff point in Sanaag province. Charcoal is becoming scarce and expensive. As an environmental protection measure charcoal making has been banned in many parts of Sanaag. As a result there is now strong demand for our solar cookers. We believe this is a significant development. It shows that attitudes are changing.

Sun Fire cooking has been educating people about the advantages of solar cooking for many years. Many people are reluctant to change from the traditional charcoal cooking fuel, which after all has been in use for centuries. Now that so much of Sanaag province's forest cover has been destroyed an increased use of solar cooks can help preserve what tree cover remains. We hope we can greatly expand the use of solar cookers. Obstacles remain; while cost savings in the long run are substantial the initial capital cost is a major impediment to a faster penetration of solar cooking in Somalia.


See what Fatima has been doing recently See what Fatima has been doing recently. <---Click at left.

Help us tell the story of the charcoal challenge through film Help us tell the story of the charcoal challenge through film. <---Click at left.

Here is our October 2006 newsletterHere is our October 2006 newsletter. <---Click at left.

Bender Bayla solar village. One year on Bender Bayla solar village. One year on. <---Click at left.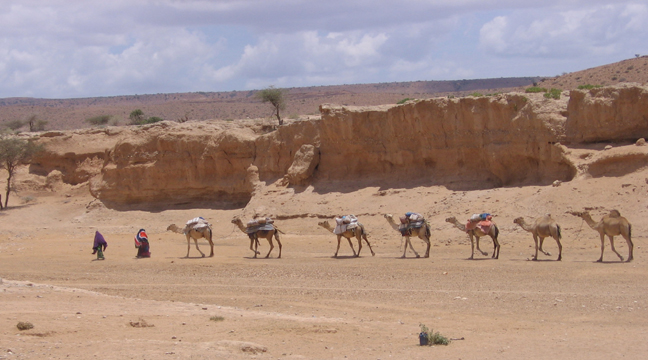 July 2008

A solar cooking project in northern Somalia

The Sanaag region of northern Somalia is in the grips of a severe drought. This adds pressure to an already severe situation. Alredy there are more of than two thousand of the former pastoralist who lost their animals due to earlier droughts and they are scattered in the villages of Sanaag as an internally displaced people.

Eastern Sanaag villages are over burdened with displaced people. Fire wood collection is getting difficult and scarce therefore very poor and displaced people are starting to uproot various live vegetations so they may get energy for their daily cooking demand. That is why most of grazing lands near the villages are turning desert. Many women and children are uprooting various live vegetation. Those uprooted bush trees will not come back when the rain comes because the trees are gone for ever. Some of the important grazing species called 'baskalex' is already becoming extinct in these areas.

Due to many years of awareness the pastoral communities try to protect trees from charcoal makers. Charcoal is not available as easily as before and because of this tree protection policy in many parts of Sanaag region charcoal is hard to access and is not as cheap as it used to be. Even if someone gets a chance to find smuggled charcoal it is very expensive and very few families can buy it.

Sun Fire Cooking, in cooperation with the Pastoral Youth Leadership (PYL) program of the NGO Horn Relief will work to distribute solar cookers. This will require training women and girls for distribution, management, monitoring, and evaluation and reporting. This task will not be easy for PYL to implement such a project, but solar cookers are of dire need in the PYL project villages.

Training is an important part of the solar cooking program. Solar cooking is easy, but according to Sun Fire Cooking's research it takes time to change attitudes. Solar cooking is a new concept and it needs effort to change from the old system of cooking. Most of the women do not like to change their traditional way of cooking and find it hard to adapt to a new method of cooking, i.e. the solar cooking. Women and girls will find many reasons not use it unless they are trained well.