A Humanitarian Catastophe threatens in the lower reaches of the Omo River in Ethiopia and the Lake Turkana region of Kenya.

This 250 page report, by the Africa Resources Working Group (ARWG) can be downloaded as a PDF (17mb). Learn why urgent action is needed.

The multiple impacts of a major hydrodam development project on Ethiopia's Omo River are examined through a resource use and natural system analysis focused on the half million indigenous people whose lives would be radically changed by the dam's downstream environmental consequences.

* * * * * * * * * * * * * * * * * * * * * * * * * * * * * *

Did you know that . . .



* Somalis depend on sheep, goats and camels for their livelihood

* Somalis use charcoal or wood for all their cooking every day

* Deforestation for charcoal production has caused massive and nearly irreversible degradation of grazing land in Somalia
Without trees, there is no life for animals or pastoralists in the fragile Somali landscape.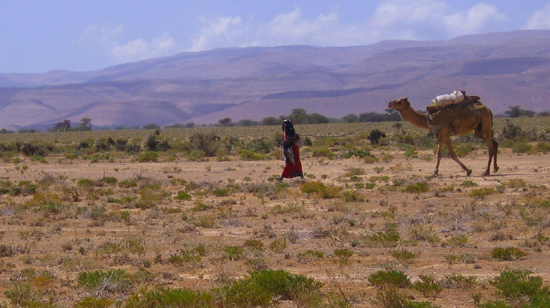 Out of this environmental crisis, Somalis have an opportunity to switch to sun power using solar cookers

Sun Fire Cooking is distributing in Somalia a very efficient solar cooker.

The Sun Fire Cooking butterfly-design solar cooker is

* large, sturdy (50 kilos), long-lasting and cooks much more quickly than other solar cooker designs.

* as fast as a gas or electric stove because of the size of the parabolic mirrors.

* healthy and clean with no choking smoke. Families can boil drinking water, avoiding many diseases.

Our solar cooker saves Somali households an average of $20 per month in charcoal costs. The solar cooker pays for itself in less than one year and should give twenty years of free solar cooking.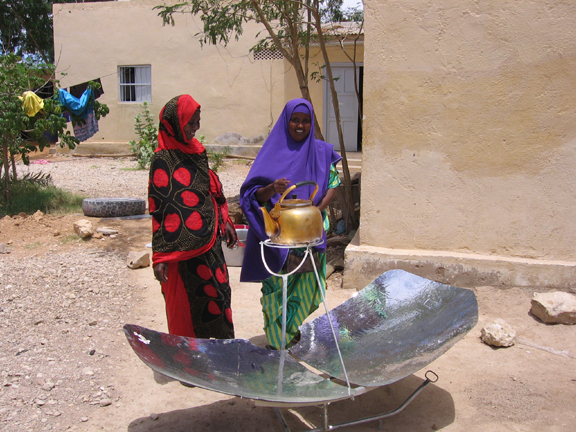 Sun Fire Cooking has produced a four-minute video about Bander Beyla, Somalia, the country's first solar cooking village! In December 2005, with a UN grant and in partnership with the community organization Horn Relief, we distributed 950 solar cookers to five villages on the Somali coast.

We are excited about the Solar Cooking Village and want to establish many, many more, throughout the Horn of Africa. We are also concerned about the violence against women in refugee camps when women go out to search for firewood. Solar cooking offers an alternative in places like Darfur.

You can see a couple of short videos on our work in Somalia. Just go to www.YouTube.com and type the words 'Somalia solar cooking' into the search box.

We need your help.
Here's what you can do TODAY to help us.
1. Order a video (available in either NTSC or PAL format). Only $10 including postage and handling. Send us an email with your request to sunfirecooking@yahoo.com.

2. Show the video to family, friends and neighbors. Ask them to support Sun Fire Cooking through donations of any amount or investing $1000.

3. Pass the word. Send us suggestions about whom we should contact for support. Our current project is a to tell the story of charcoal conflict and solar alternatives through video.
We are looking for funding and donations for a 25 minute video.

4. Buy a solar cooker for a Somali family. For $200 you can buy a solar cooker for a family OR for a woman to start her own tea shop and support her family. Send us an email at sunfirecooking@yahoo.com for details or telephone Fatima in Bosaso at +252 5 797844.

5. Send us a donation of any amount.
Make your check out to Sun Fire Cooking and mail it to
Sun Fire Cooking, PO Box 70331
Nairobi, Kenya
Please contact us first at sunfirecooking@yahoo.com about how to
securely send money to Kenya.

6. Write to us with your ideas and suggestions at sunfirecooking@yahoo.com.