I am passionate about sharing an uplifting image of the daily lives of the people of Kibera.

We are telling the stories that otherwise would never be told...

Working with Hot Sun Films in Kibera, I feel as if I am in the middle of something historic, innovative, a breakthrough...a vision is unfolding…

Kibera Kid Crew
NATHAN COLLETT
Director/Co-Producer/Writer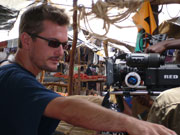 Nathan with RED camera
Nathan is a global citizen, who lives in Nairobi, Kenya. He studied African History at Stanford University, California, USA and completed his postgraduate degree in Film Production (MFA) at the University of Southern California Film School. Nathan was a Fulbright scholar (2006-2007), researching storytelling in Nairobi slums. Nathan has directed, shot, produced and edited numerous films and videos for corporate clients and has made award winning short films.
Nathan is the founder of Hot Sun Films and Hot Sun Foundation, both located in Kibera slum in Nairobi, Kenya. Hot Sun Films is currently producing the first-ever feature film made in Kibera, TOGETHERNESS SUPREME, a story of hope and reconciliation. Hot Sun Foundation started the Kibera Film School to train youth in all aspects of filmmaking. Through filmmaking and cultural exchange, Nathan hopes to change the world's impressions of Africa.
MERCY MURUGI
Production Coordinator KIBERA KID

Mercy Murugi
Mercy Murugi, Production Coordinator. Born in Nairobi, Kenya, Mercy grew up all over the country, never settling in one town for more than two years. She worked in one of Kenya's leading TV stations, then moved to Ginger Ink Films, a leading production service company in East Africa and became Production Manager / Line Producer. Mercy has worked with National Geographic, Discovery Channel, and BBC. She is training Kibera youth how to make films while carrying out her work as Producer for TOGETHERNESS SUPREME, the feature film made in Kibera. Mercy is a part-time instructor at the Kibera Film School.
PAMELA COLLETT
Development and Networking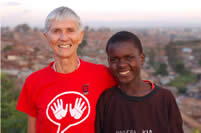 Pamela has worked as an educator, program developer, and administrator in the USA, Venezuela, Australia, Pakistan, Afghanistan, China, Uganda, Somalia and Kenya. She studied at Stanford University, California (B.A. Art History), and Cornell University, New York, (M.S. Human Development). In 2007 she worked with youth groups in Kibera as a writer and facilitator.