For many young people in Kibera, the film is an inspiration.

I regularly use "Kibera Kid" in my courses on international development at the University of California, Berkeley, and find it extremely helpful…

Kibera Kid Cast
Ignatius Juma (the Kibera Kid)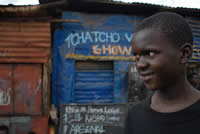 Ignatius is a fourteen-year-old boy, who lives in Kibera and is a star student at Little Prince School. He continues to work with Hot Sun Foundation.
Before Kibera Kid, Ignatius had never acted, yet he has the talent and work ethic of a seasoned professional. Ignatius dreams of being an actor or the next President of Kenya.
When people saw me act in a film, they saw that anything is possible. Ignatius Juma
Godfrey Ojiambo JL, leader of the Razors gang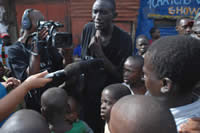 Goddy is a lifelong resident of Kibera and a well-known Kenyan stage actor. His dream is to make a better life for himself and his family.
I want to change the world, starting with my family and then Kibera. Godfrey Ojiambo
Kibera Youth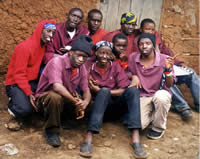 The cast were born and raised or came to Kibera at an early age. Many of them now work with Hot Sun Foundation to develop their talents and their community.
The most ignored people in the society, the chokoras (street kids), are given priority in KIBERA KID.
Evans Kamau Kangethe, Kibera, Kenya