Working on the script for KIBERA KID feature film has encouraged me and given me some skills so I know I can participate. This has made my life in the slum more attractive.

KIBERA KID will make a positive attitude change in the world about people in the slums. We will never be forgotten if we succeed in making KIBERA KID feature film.

I hope with all my heart that what you are trying to do with community film in Kibera will succeed.

Contact us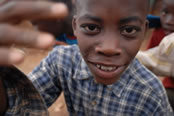 Hot Sun Films
Contact us by email at
Visit our websites
© Copyright 2014, Hot Sun Foundation, info@hotsunfoundation.org