The People who made
CHARCOAL TRAFFIC



Nathan Collett


Director/Cinematographer/Co-Producer



Nathan Collett was born in San Francisco, USA and grew up around the world in Venezuela, Australia, United States, Pakistan and Kenya. He makes his home in Nairobi, Kenya and has been filmmaking and researching in East Africa since 1997. He has made several award winning fictional films including the KIBERA KID short pilot film that won seven international awards.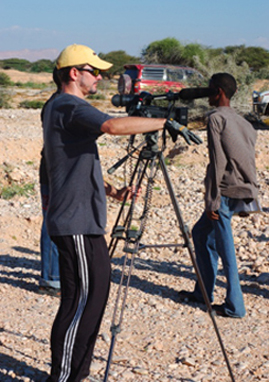 Nathan directing and shooting Charcoal Traffic

Nathan has produced, directed, and shot numerous videos for corporate clients including American Express, Current TV, Cisco Systems and many others. Nathan studied African History at Stanford University, California where his honors thesis was a documentary on the revival of traditional religion in Kenya. He completed a postgraduate degree (Masters of Fine Arts) at the prestigious University of Southern California Film School.

Through filmmaking, Nathan hopes to change the global cultural impressions of Africa and help make it a better place for those on the lowest rung of society.

Nathan Collett Filmography


CHARCOAL TRAFFIC (2007-8), a short narrative film about the devastating environmental effects of the charcoal trade in Somalia. The first narrative film shot in Northern Somalia in over fifteen years.) Nathan Collett, Director/Cinematographer/Co-producer.

HIKEAWAY (2007) short narrative film shot on super16mm about a young boy who runs away from home. Nathan Collett, Producer.

SUBIRA (2007) an award-winning short narrative film about a young girl trying to express her self in a conservative society set in Lamu, Kenya. Currently being submitted to film festivals worldwide. Nathan Collett, Producer/Cinematographer.

CHRONIC IN KENYA (2007) short documentary profile of Kamlesh who lives in Kibera, the largest slum in east Africa. With few opportunities for employment, Kamlesh finds himself dealing marijuana to survive. Produced for and aired on Current TV, USA. Nathan Collett, Director, Producer, and Editor.

SEX TO SURVIVE (2007) short documentary about young women in Kibera who are struggling to survive. Many turn to prostitution to feed families, not out of choice but to merely survive. Produced for and aired on Current TV, USA. Nathan Collett, Director/Producer/Editor.

KIBERA KID (2005-6) the seven-award winning short pilot narrative film. The pilot film is about a young street boy who must choose between gang life and redemption. Shot on 16mm and finished on 35mm. Nathan Collett Writer/Director/Co-Producer. Awards: Student Emmy, Children's Program (Academy of Television Arts and Sciences Foundation, Hollywood, USA). Best Short Film (Kenya International Film Festival, Nairobi), Best Kenyan Short Film (Lola Film Festival, Kenya), Best Director (Angelus Film Festival, Los Angeles, USA), Graduate Student Award (Hampton's International Film Festival, New York, USA). Most Innovative Short Film (Reel to Real Film Festival, Canada). Best Youth Film (Danville International Film Festival).

SECRET SON (2006) short narrative film shot on 35mm about an old billionaire who clones himself in a quest for immortality. Nathan Collett, Producer.

THE OATH (2005) short narrative film, on the Mau Mau rebellion. Nathan Collett, Writer/Director/Co-Producer/Editor.

LIFE FORCES (2005) short narrative film about a woman who uses voodoo to try and stop her husband from cheating on her. Shot in Tucacas, Venezuela. Nathan Collett, Writer/Director/Cinematographer.

LOOKING TO THE PAST (2000), a documentary film about the controversies surrounding the revival of traditional religion in Kenya. Nathan Collett, Director/Producer/Co-Cinematographer.

REALITY OF MY SURROUNDINGS (1996), an award winning autobiographical documentary/experimental piece. Nathan Collett, Writer/Director/Editor. Award: Educational Media Network (USA) Silver Apple award (1996)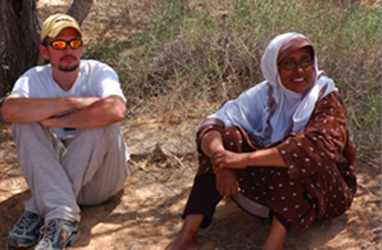 Fatima and Nathan take a break from the scorching midday sun
Fatima Jibrell Producer
For more than 17 years, Fatima Jibrell has been working with pastoralists in Somalia. Fatima is the recipient of the 2002 Goldman Environmental Prize for Africa, the most prestigious international environmental award. She was selected for the Goldman Prize for her leadership in creating a movement to protect diminishing natural resources in Somalia.

Fatima founded Sun Fire Cooking in 2004 to offer solar cookers as an alternative to the use of charcoal for household cooking in East Africa. Charcoal production to produce fuel for cooking has brought devastation of the fragile, semi-arid Somali environment, threatening the pastoral way of life.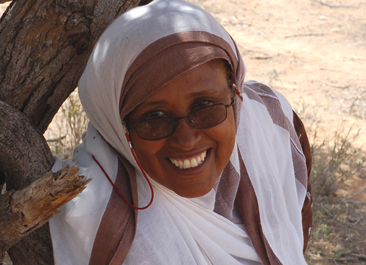 In 2006 after consultation with Hot Sun Films, Fatima decided to make CHARCOAL TRAFFIC, a short fictional film illustrating the environmental and cultural conflict in Somalia due to charcoal production.

Despite filming in a conflict zone with no access to film equipment and with no experienced actors to call upon, Fatima overcame all obstacles to produce CHARCOAL TRAFFIC.

Fatima's goal is to show CHARCOAL TRAFFIC throughout Somalia and the Somali Diaspora to provoke discussion about the environmental and cultural challenges facing Somalis today.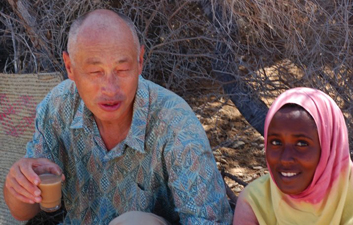 James Lindsay with production assistant Farxia



James Lindsay Co-Producer




James has lived all over the world, serving as a career diplomat for Australia for 28 years.

One of the environments and cultures that especially intrigue him is that of northern Somalia. In recent years, James observed how the fragile semi-arid environment suffered from uncontrolled charcoal production.

In 2004, after retiring from the Australian Foreign Service, James co-founded

SUN FIRE COOKING

with his friend Fatima Jibrell to offer an efficient, sturdy solar cooker as an alternative to charcoal for household cooking.





James and Fatima envision everyone in Somalia working to protect and reclaim the land for future generations. They see a future when environmentally friendly solar energy replaces charcoal for cooking.


Sun Fire Cooking's Mission
To help reduce the devastating cutting of trees for fuel, Sun Fire Cooking mobilizes people in Somalia and east Africa to switch from charcoal to solar for cooking.

Sun Fire Cooking aims to revolutionize the culture of cooking in east Africa by promoting solar cooking.

CHARCOAL TRAFFIC will provoke discussion among Somalis everywhere about the destruction caused by charcoal and encourage people to switch to solar cookers.