Here are some photos of our time in China in 2003, at the coast in Kenya and at the Uganda Rural Training and Development Programme and the Rwenzori Mountains in Western Uganda and a few other places other places for good measure.
Here are a few photos of some of our recent activities:

Jim's nephew Man Man has just married his long time sweetheart Shiming. Here they are with Pamela at the top of Silver Pagoda mountain near Beijing.

Deh-Ni (right) used to bath Jim as a baby at Baliol College, Oxford. Shown here with Jim's cousin An-Ping and spouses in a Beijing restaurant

Isabel Crook is one of the old China hands and a dear friend. She is shown here with Pamela and her son Michael in her Beijing apartment. Michael grew up in Beijing . When he speaks Chinese, he sounds like a native Beijinger, which astounds local people.

Pamela with colleagues Professors Mei, Cathy Boone and Peter Trubowitz and some of their students at Beijing Foreign Studies University.

Gabriel in the Sierra Mountains in northern California, where he and Pamela went camping

Pamela's mother Bette Silver, Pamela, Nathan, her sister Lonna, Lonna's son JJ, and his wife Stephanie at the Monterey Aquarium in California.

Jim, guide and porter at entrance to the Ruwenzoris, also known as the Mountains of the Moon in western Uganda.

A male rhino chameleon spotted while Jim and Pamela were hiking in the Ruwenzori Mountains

Jim in front of Pamela and Jim's charming hut, where they lived while working at Uganda Rural Development and Training Program in western Uganda

Photos of Pamela with the curriculum team at Buran Rural Institute in Somalia.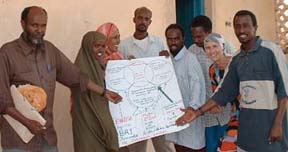 .
.
.
.
.
Jim above Buran village, Puntland, Somalia.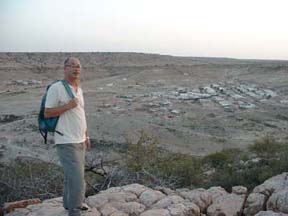 .
.
Jim discussing a solar electricity project with trainee technicians
from the WAWA (We Are Women Activists) Network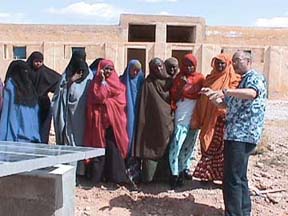 .
.
.
.
.
.
.
Nathan film making in western Uganda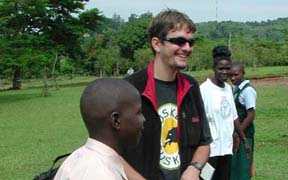 .
.
. Nathan setting up the camera with Bernard
at Uganda Rural Training and Development Institute, Kagadi .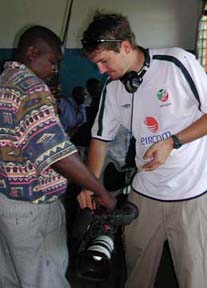 .
.
Gabriel, Pamela and Jim enjoying the beach in Venezuela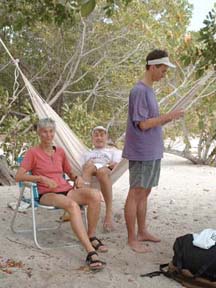 .
.
.
.
.
.
.
Jim with staff at Mrs. Simpson's Guest House in Watamu, Kenya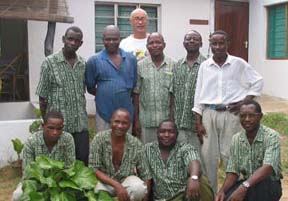 .
.
.
.
.
.