Hot Sun Energy
Return to the home page of Hot Sun Energy http://www.hotsunenergy.com
Interviews with Solar Cooker Owners
Bosasso, Somalia 17 August 2004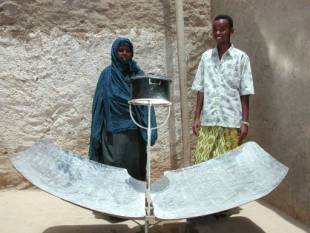 Hali Omar is 22 years old. She is responsible for cooking in a household of six people. She uses the solar cooker for lunch, afternoon tea and dinner. Cooking lunch takes less than an hour and dinner about one hour. She begins cooking dinner about 3 o'clock in the afternoon and keeps it hot until meal time. She likes the solar cooker because it is faster and cleaner than charcoal. She says that unlike charcoal she does not have to watch over the solar cooker. She only has to give it an occasional turn to keep it pointing at the sun.
Hali says that she uses charcoal to cook breakfast in the early morning. She wishes she could avoid the use of charcoal. She is aware of the environmental damage that tree cutting for charcoal causes. She says that before they bought the solar cooker the household used about four 25 kg bags of charcoal a month. Now one bag of charcoal lasts about one and a half months, sometimes two. (A bag of charcoal cost about 95,000 Somali shillings or US $6.30.) The household is therefore saving about US $20 a month, a substantial savings for Somali households. This savings means that the household recovers the cost of the solar cooker in less than year.
Hali said that many of her friends and neighbors have asked where they can buy the cooker. She said that she could sell ten of them tomorrow and probably more if they were available.
When asked about kerosene cookers, she had seen some people using kerosene but had no personal experience. She said that if it was price competitive with charcoal, she would certainly use it. She agreed to be on radio or other activities to promote the advantages of solar.
Ahmed, male, 20 years old, is a member of a household of 10 people. He shares the cooking duties with a young woman, Fatima, who was not present at the time of the interview. Ahmed said it was the solar cooker which got him started with cooking. He said he would never dream of cooking on charcoal which he considers women's work. He said that he was responsible for teaching the women how to use the solar cooker and that is how he got started. Now, encouraged by the easy cooking, he too is a cook. Ahmed said they cook both lunch and dinner on the solar cooker. Lunch took about two hours to prepare and cook, which includes preparing tea. They begin preparing dinner about 3 pm and it takes about 1 hour. For breakfast they use charcoal.
Ahmed says he likes the solar cooker because it is fast, clean, and the family can reduce the use of charcoal which is good for the environment. The only thing he didn't like about it was that it was difficult to make chapattis or injira (a type of pancake which is a staple food for breakfast) on the solar cooker. This was because to make these types of food, it was necessary to be constantly standing near the cooker. Using dark glasses could overcome this problem to avoid the reflection. Ahmed noted that there is sufficient heat in the stove for the pancakes.
The household bought the cooker about one year ago, after seeing the cooker in use at the Horn Relief office. Before purchasing the cooker, the household used between three and four bags of charcoal a month. Now the household uses about 1/2 a bag of charcoal a month. Savings are therefore comparable to that of Hali's household, i.e. $20 per month. The cost of the cooker was recovered in less than one year.
Ahmed noted that many people in his neighborhood have admired the solar cooker, but as it is a very poor neighborhood, none have asked about buying one. He said that he thought that poorer families might pool their resources if they can share the stove between two or three families. Ahmed agreed to go on the radio and talk about the advantages of using a solar cooker. Ahmed said he would be interested in using the pressure kerosene stove. He had seen one in use when traveling.
Email received from one solar cooker user
Subject: The solar cookers Date: Sunday, March 28, 2004 5:55 PM
Dear Jim and Pamela,
The solar cookers were great. One of them is in our office working with the sun. There is always something on it. Food, tea and water. Some months ago the solar cooker cooked for 28 persons. There are 13 other families that are using one of the solar cookers. My house is one of them. We cook everything before noon. The lunch, dinner, tea and boiling the water for drinking. My wife also helps some of the neighbour families to cook their food with the solar cooker. Bosaso weather is ideal for these solar cookers. All the using families and Horn Relief are sending their blessings to Jim's mother for this great gift and we are all thanking her for this.
The solar cookers will be training in cooking with the alternative energy for the Somali people who are avoiding problems with the use of charcoal for the first time. I will be sending some of the photos of the solar cookers in use.
Best regards and thank you very much.
Omar M Irbad
Return to the home page of Hot Sun Energy http://www.hotsunenergy.com