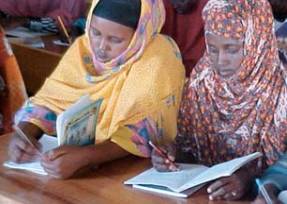 People to People: Education for Somali Girls
Even in the best of times, Somali women and girls
did not get their fair share of resources . . .
whether from family, clan, or government, in any of the areas of human needs and rights, including education, employment and health. Eleven years of civil war has meant a generation of youth have lost what opportunities previously existed for education. For young women and girls the results have been even more devastating. The current percentage of girls in the school population is estimated to be as low as 6.3% with female teachers about 15% of the total.
Support SECOND CHANCE non formal education for Somali girls and young women who did not get to go to school because of the civil war and discrimination . The Galkayo Education Center for Peace and Development in northeast Somalia is working with WAWA (We Are Women Activists) a network of women's groups to expand educational opportunities for girls and young women. You can assist.. The basic costs for a teacher and some supplies are US $5 per month per student. Classes have 30 to 40 girls, therefore for US$150 per month you can support one class of girls and young women. The non formal education curriculum is for 10 months a year for two years. For US $1500 you can support one class for one year. In addition to basic literacy and numeracy the course includes health, women's rights, peace, reconciliation, and environmental awareness.
For more information or how to make a donation, CONTACT
Jim Lindsay or Pamela Collett P.O. Box 33 Watamu 80202 KENYA
Telephone: +254-122-3241 email mukinduri@bigfoot.com
Web site www.somaliapeace.net