A canoe trip through the mangroves
If you are in the Watamu area on Kenya's north coast here is a great trip you can do.
Mida Creek is lined with mangroves, but most people only see the creek from a large boat travelling on the wide main channel. Here is how to make a trip with local people and get a view of the mangroves and local life. The canoes are the simple dug-out type and you must be prepared for some walking, but actually the walk through the mangroves is as interesting as the boat ride.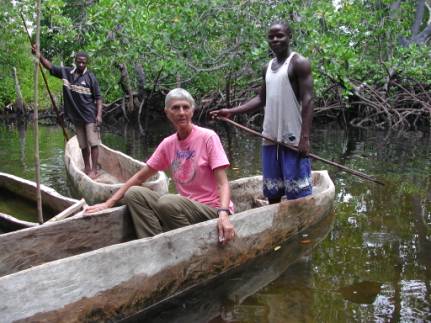 Mushroom (on right) with a friend. We followed the narrow creek for about half a kilometre before coming out into the open water of the main channel. It's an enchanting trip through the tunnel formed by the overhead trees. Fish jump beside you and birds perch in the trees as you glide quietly by.
In Watamu take the road towards Temple Point. You will have to go here anyway to buy a park entry ticker from the Kenya Wildlife Service. Turn right (west) at Dongo Kundu School (opposite plot 26). Walk straight past the school through the coconut plantation until you come to the mangroves. Here turn left and follow the edge of the mangroves for about 10 minutes. You will come to a well used track leading through the mangroves. Turn right here and wade through the ankle deep water. When you come to dry land again ask the local villagers where you can rent a canoe. One person who understands the needs of tourists is called Mushroom. Prices are very reasonable. It's another 10 minutes walk to reach the point where the canoe's are moored.
<![if !supportEmptyParas]> <![endif]>
If you want more information please contact Jim by email at mukinduri@bigfoot.com